In recognition of the 2017 Pulmonary Rehabilitation Week, March 12 to 18, Hoyt Ervin and Misty Fancher were crowned the "Pulmonary Rehab King and Queen" during a special celebration at St. Mary Medical Center. Both patients are active members of the hospital's cardiopulmonary rehabilitation program.
A new telemetry/observation area opened March 20 on the second floor of Franciscan Health Crown Point. The unit, an expansion of the existing medical-surgical program, is a 22-bed facility with telemetry capabilities that will improve the efficiencies of patient bed placement through critical care departments of the hospital during times of high census.
National Women's Health Week is coming up!
Spots are limited, so call today and make your appointment for these discounted health screenings:
The Indiana Breast Cancer Awareness Trust has awarded a one year, $20,000 grant to St. Catherine Hospital for a breast cancer screening and awareness program called, "Pink Passion."
On Friday March 10th, Ann Peters, President and Founder of the Pink Ribbon Society met with representatives of NorthShore Health Centers at the NorthShore Administrative Office in Portage to present them with a check for $10,000.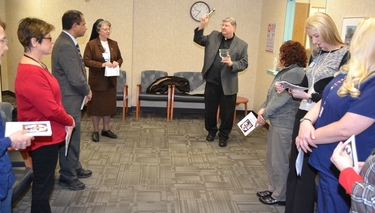 The Rev. Anthony Janik, director of Spiritual Care Services at Franciscan Health Crown Point, blesses with holy water the new satellite office of the Franciscan Health Dyer and Hammond Outpatient Behavioral Health Center, during a celebration at the 2050 N. Main St., Suite C, location on March 13. The Crown Point facility will have three therapists, a psychiatrist, a nurse practitioner and a medical assistant.
Hip and knee pain can be debilitating, and when it gets to the point that non-surgical care won't work, it could be time to consider having a joint replacement. Many people put it off and suffer through unnecessary pain for too long. And, it keeps them from doing the things they love to do.
Participants showed up early to beat the weather on Thursday evening for Methodist Hospitals' 'Healthy Night Out with the Girls' at the Northwest Indiana Breast Care Center in Merrillville. Once inside, the women were primped and pampered, leaving all worries of the cold behind.
March is Colon Cancer Awareness Month, so there's no better time to get the facts on how to prevent or detect it early.
The Women's Diagnostic Center of St. Mary Medical Center received a donation of $5,000 from the Pink Ribbon Society to fund screening mammograms and breast ultrasounds for patients who are underinsured, along with providing Pink Pockets for breast cancer patients.
Northwest Indiana Nephrology's Dr. Kristoph Giricz was born on the southside of Chicago before moving to the region with his family as a teenager. Giricz and his family ultimately ended up in Schererville, where he now practices as a nephrologist.