Senior citizen community members living in Schererville attended Residences at Deer Creek's Senior Fun Day, and they all did just that: had fun!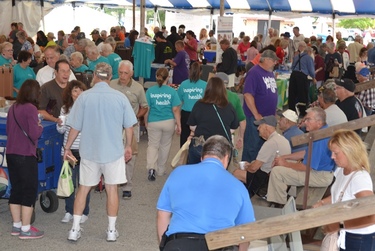 More than 500 attendees were on hand for the 15th annual Franciscan Health-sponsored Senior Citizens Day at the Lake County Fair Aug. 7. The program, in the Senior-Showcase Tent, offered information regarding the Accountable Care Organization, Franciscan Senior Promise, Franciscan Senior Health and Wellness, Franciscan Insurance Services, outpatient services, stroke awareness and palliative care.
The Residences at Deer Creek consistently put together some great events for their residents. Most recently they hosted a ladies only Positivi-TEA time, which encouraged attendees to engage in positive conversation with their fellow residents.
Once a month the staff at Pines Village Retirement Communities are inviting all of the veterans living in the area to breakfast with them.
When her husband came to Lincolnshire Healthcare and Rehabilitation Center for recovery, Marilyn and John Niles were welcomed into the facility as fellow family members.
The OmniStand. What is it and how does it work? Well, those at Dyer Rehabilitation know.
Roy Miller is the new resident on the block at Symphony of Dyer. He moved to the facility in early 2016 and began settling down in his new home.
A century in the making, Ellen Magerl celebrated her 100th birthday with family and friends April 24 at Hartsfield Village Continuing Care Retirement Community. On hand for the celebration are (left to right) Joan Garritson, Kurt Garritson, Liz Magerl and Jim Ogura.
The people of Residences at Deer Creek journeyed through history on Saturday as they watched and participated in a historical fashion show. The parade of outfits wandered through the eras and tables filled with family, friends, and residents of the Deer Creek community.
The 17th Annual Portage Senior Health Fair welcomed seniors citizens from around the Northwest Indiana to Woodland Park. The annual health fair brings hundreds of people and vendors together for free health screenings, valuable information about health and wellness, and fun events for everyone to enjoy.
Playful pups from the Humane Society of the Calumet Area are a welcome sight for patients and residents at Hartsfield Village Rehabilitation Center. Recently, Shelter Director Todd Howard brought a couple of frisky dogs to brighten the seniors' day.