Northwest Indiana Nephrology's Home Therapy Coordinators, Paula Ray and Becky Strug, are changing the lives of NWI Nephrology dialysis patients for the better every day through home dialysis. The ability to perform dialysis from the comfort of their home, and to not have to travel to a dialysis center three days every week, has opened patients up to a more independent life. For Ray and Strug, helping patients reclaim that independence has been incredibly rewarding.
Access to primary healthcare and additional services is something many struggle with. In some areas, the availability of basic care is limited or unaffordable. For those in the Merrillville area, Regional Mental Health Center has opened a new clinic located on Taft Street, capable of serving a wide variety of healthcare needs.
Methodist Hospital's Northlake Campus in Gary, IN, has been verified as a Level III Trauma Center by the Verification Review Committee (VRC), an ad hoc committee of the Committee on Trauma (COT) of the American College of Surgeons (ACS). This achievement recognizes the trauma center's dedication to providing optimal care for injured patients.
Cardiac electrophysiologists at Community Hospital, Munster are first in Northwest Indiana to implant a new tiny pacemaker that requires no incision or skin pocket and has no lead. Need an MRI? No problem.
Porter Health Care System's CareEXPRESS urgent care clinics, ERs, and primary care doctors with Porter Physician Group are turning your living room into your own private waiting room, with a convenient online check-in service. InQuicker online check-in is now available at porterhealth.com.
Our healthcare clients spend their days helping others, fixing problems, and saving lives. Each day they are faced with unique challenges and struggles, but more importantly, successes.
Senior citizen community members living in Schererville attended Residences at Deer Creek's Senior Fun Day, and they all did just that: had fun!
Methodist Hospitals is pleased to announce the addition of Dr. M. Kamran Aslam to the Methodist Physician Group Network. Dr. Aslam is a Cardiologist specializing in Cardiac Electrophysiology. He focuses on anything cardiac rhythm related which includes pacemakers, defibrillators, and advanced heart failure pacing devices. He treats a variety of cardiac rhythm disorders that can occur in a wide range of patients, from teenagers to the elderly. He also treats the most common rhythm disorder called Atrial Fibrillation, as well as Ventricular Tachycardia, all of which can be experienced as rapid heart rate.
On Tuesday, NorthShore Health Centers kicked off their National Health Center Week celebration by hosting patients and the community at their Lake Station location for the annual Patient Appreciation Health & Fun Fair.
Hospitals of Community Healthcare System have received 2017 Get With The Guidelines quality achievement awards from the American Heart Association/American Stroke Association. The awards recognize the hospital staffs' commitment and success in treating stroke patients with the most appropriate, timely care according to nationally recognized, research-based guidelines.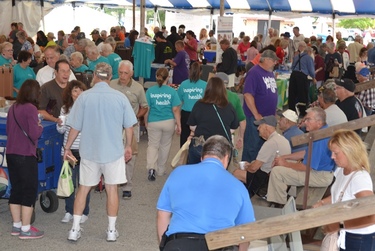 More than 500 attendees were on hand for the 15th annual Franciscan Health-sponsored Senior Citizens Day at the Lake County Fair Aug. 7. The program, in the Senior-Showcase Tent, offered information regarding the Accountable Care Organization, Franciscan Senior Promise, Franciscan Senior Health and Wellness, Franciscan Insurance Services, outpatient services, stroke awareness and palliative care.