One of the biggest challenges of parenting children with social struggles is worrying that they'll be socially isolated. You know that your child has a huge heart, a silly side and a lot of interesting ideas, but will the other kids in her class realize that? Organizing small, controlled play dates is the perfect way for your child to build social skills, make new friends and enjoy all the fun of childhood.
In recognition of the 2017 Pulmonary Rehabilitation Week, March 12 to 18, Hoyt Ervin and Misty Fancher were crowned the "Pulmonary Rehab King and Queen" during a special celebration at St. Mary Medical Center. Both patients are active members of the hospital's cardiopulmonary rehabilitation program.
A new telemetry/observation area opened March 20 on the second floor of Franciscan Health Crown Point. The unit, an expansion of the existing medical-surgical program, is a 22-bed facility with telemetry capabilities that will improve the efficiencies of patient bed placement through critical care departments of the hospital during times of high census.
When Frank J. Mrvan, the North Township Trustee, began speaking to a crowd of 300 people early Saturday morning, he had something planned that would hopefully strike a chord with everyone in attendance.
The Tobacco Education and Prevention Coalition for Porter County would like to recognize NorthShore Health Centers for their adoption of a smoke free policy. NorthShore Health Centers is committed to providing a safe and healthy workplace. The following smoking policy that has been adopted shall apply to all employees, visitors, and patients of NorthShore Health Centers.
National Women's Health Week is coming up!
Spots are limited, so call today and make your appointment for these discounted health screenings:
It has been known for many years that the diet of a pregnant woman affects the growth of her baby. This research is ongoing, and some interesting links have been discovered between prenatal nutrition and childhood development.
The Indiana Breast Cancer Awareness Trust has awarded a one year, $20,000 grant to St. Catherine Hospital for a breast cancer screening and awareness program called, "Pink Passion."
With so much conflicting advice in magazines and blogs, making the right calorie choices can feel like gazing into a crystal ball. If you're one of the 30 percent of Americans who resolve to lose weight every year, start by separating fortune-telling from facts.
On Friday March 10th, Ann Peters, President and Founder of the Pink Ribbon Society met with representatives of NorthShore Health Centers at the NorthShore Administrative Office in Portage to present them with a check for $10,000.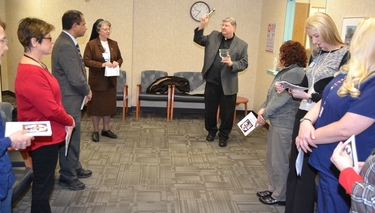 The Rev. Anthony Janik, director of Spiritual Care Services at Franciscan Health Crown Point, blesses with holy water the new satellite office of the Franciscan Health Dyer and Hammond Outpatient Behavioral Health Center, during a celebration at the 2050 N. Main St., Suite C, location on March 13. The Crown Point facility will have three therapists, a psychiatrist, a nurse practitioner and a medical assistant.