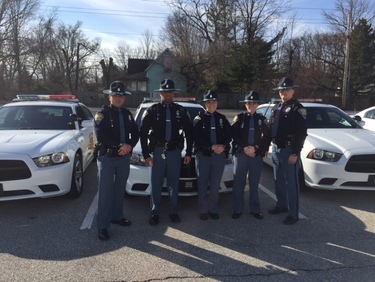 On February 14th, 2017, fifty-five probationary troopers from the 76th Indiana State Police Recruit Academy class were issued their state police cars at the Indiana State Police Youth and Education and Historical Center in Indianapolis. Five of the officers are assigned to the Indiana State Police Lowell Post and start solo patrol in the district which covers Lake, Porter, La Porte, Newton, Jasper, Starke and Pulaski counties. The probationary officers recently completed a three month field training period with veteran troopers. They will serve a one year probationary period before attaining permanent status as a trooper.
South Shore Clean Cities (SSCC) and Nissan have teamed up to offer a generous discount on the Nissan LEAF, representatives said Wednesday.
NIPSCO is accepting applications for its environmental action grant to support local nonprofit organizations with environmental initiatives. In its second year, NIPSCO's Environmental Action Grant program aims to provide funding for restoration and education projects throughout northern Indiana.
To kick off 2017, Hobart Mayor Brian K. Snedecor, Hammond Mayor Thomas McDermott Jr., and Whiting Mayor Joe Stahura met with Ideas In Motion Media CEO Chris Mahlman for a roundtable discussion at the "Great News" Studio.
On Friday, February 3rd Lakeside Wealth Management hosted their 2nd Annual Nonprofit Breakfast. The event brought together 12 local non-profits for breakfast and each had the opportunity to share their message, their goals and ways to get involved with their organization.
South Shore Clean Cities today announced it will work with the American Lung Association of the Upper Midwest and seven other Clean Cities coalitions on a three-year project to promote electric vehicles throughout the Midwest.
The IRS is looking for people who will provide free tax help for the upcoming tax season.
We love our riders! As a thank you for all the support, we want to give back to our loyal and even leisure riders! You can ride the South Shore Line for FREE* on all Westbound weekend and off-peak weekday trains from Sunday, February 12, thru Saturday, February 18, 2017. *Riders pay the applicable fare on their eastbound trip.
The NIPSCO Energy Efficiency Program presented AM Stabilizers with a check worth more than $15,000 in rebates and incentives. The funds were applied towards the company's conversion of 134 fluorescent high bay fixture warehouse lights to a high efficiency LED motion-controlled lighting system.
Hammond Mayor Thomas M. McDermott, Jr. delivered his annual State of the City Address to members of the Lakeshore Chamber of Commerce on Thursday at Horseshoe Casino in Hammond. Instead of delivering a prepared speech, McDermott spoke on a broad range of topics presented to him by Chamber Executive Director Dave Ryan.