Valerie Gonzalez didn't give much thought initially to the fact her diploma failed to arrive in her home mailbox after she had participated in Purdue University Calumet Commencement Exercises back in the spring of 1999.
When he draws and paints, Bishop Noll senior Antonio Magaña said he feels like he is in his own world where he can express himself through his artwork. Those talents earned him first-place honors during the annual juried high school art exhibit held earlier this month at Calumet College of St. Joseph.
It is not enough to go through school with perfect grades anymore. Yes, those A's look great on paper, but it now as important as ever to be able to tell your future employer, 'I have experience.'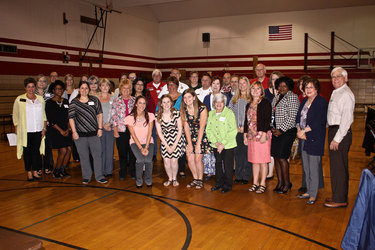 Portage Township Schools will be hosting the Reality Store for Willowcreek Middle School on Thursday, May 11th and Fegely Middle School on Thursday, May 18th. Business and community volunteers are extremely important to this program. Volunteers will assist students as they learn how to live within their means while enjoying their chosen career.
The Munster High School Dance Teams had a very successful year. Both the JV and Varsity teams won first place at the IHSDTA state finals competition in the pom category for the third year in a row. In the jazz category, both teams earned 2nd place. The competition took place at New Castle High School.
The Munster High School Speech Team competed at Fishers High School in the 2017 IHSFA State Speech Tournament. For the 8th consecutive year the Mustangs won the Class 2A State Champion Speech Team Title. In addition it was the 18th State Championship for Munster High School Speech and Debate.
Indiana University Northwest Chancellor William J. Lowe, and the campus's One Book … One Campus … One Community… Reading Initiative, recently introduced a packed auditorium to two family members of Henrietta Lacks, a woman whose cells were taken without her knowledge in the 1950s. Her story, chronicled in "The Immortal Life of Henrietta Lacks" by Rebecca Skloot, sparked an ongoing bioethical and racial debate. Veronica Robinson and Shirley Lacks, the great-granddaughter and daughter-in-law of Henrietta Lacks, discussed Henrietta's legacy as the origin of many breakthroughs in medicine, as well as the family's struggle with the ethics of how her cells were acquired.
Munster Horsepower Robotics Team #3147 has spent the last few weeks competing in their 8th season of FIRST FRC competition. As of March 19, 2017 Munster Horsepower is sitting at the #2 position in the state of Indiana. Behind 1st place team #1501 T.H.R.U.S.T. from Huntington, IN by only 5 district points. The students, and mentors, have been very focused this year on proper preparation and planning. The team's performance at the St. Joseph District in Mishawaka was an exemplary performance highlighting both skill and strategy.
CMS places at State Science Olympiad
The Chesterton Middle School Science Olympiad team placed third out of 37 teams in the state competition hosted on Saturday, March 18 at Indiana University Bloomington. Pictured are team members receiving their award at the event. Team members from CMS are Hattie Hoham, Ben Rutkowski, Andrew Engel, Quentin Funderburg, Peyton Day, Sam Keane, Frances Clancy, Zoe Swanson, Allison Soblotne, Aidan Healy, Jackson Fleming and Mark Jewison. Freshman team members from Chesterton High School are Justine Keiser, Sawyer Castro, Drew Engels and Ben Hoham. Their coach is Theresa Keilman.
The Friends of Portage Township Foundation are excited to announce that the tickets for the June 2017-May 2018 drawings are now available for purchase for $20 each.
This year's 8th Grade Duneland Reality Store introduced a new class of students into a decades-old tradition of immersive learning and community collaboration. Each student followed their own GPA-based career path through an adult finances simulation. It's a fun way to see what life may be like for students a decade after high school.